I invite you Into a Temple for the celtic goddess
Welcome to an Online Temple Devoted to the Emerald Trinity Wisdom of the Celtic Goddess Principle

A great many priestesses will rise. We will cry tears for the lost sacred feminine that will quench the Wasteland. Beholding the ancient orchards that make up the wild soul of woman, we will regenerate our inner sight and inner knowing. The great trees of the Earth will breathe deeply, exhaling a plume of oxygen to fill our lungs with courage, and we will speak our truth. Ravens and crows will swoop and shriek, making nests out of our hair, turning us wild with magic once more. And the original priestesses on their island behind the veil will smile, their eyes gently shimmering green in the mirror of Earth.
Allowing the goddess into consciousness is far more revolutionary than one could imagine. Like a great wave rising civilisation up and dropping it into a new territory, it will transform everything.
It is a consciousness evolution.
Work with me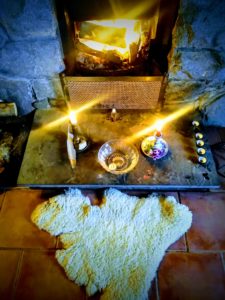 Get in touch to learn more about the work I do and the sessions I offer.